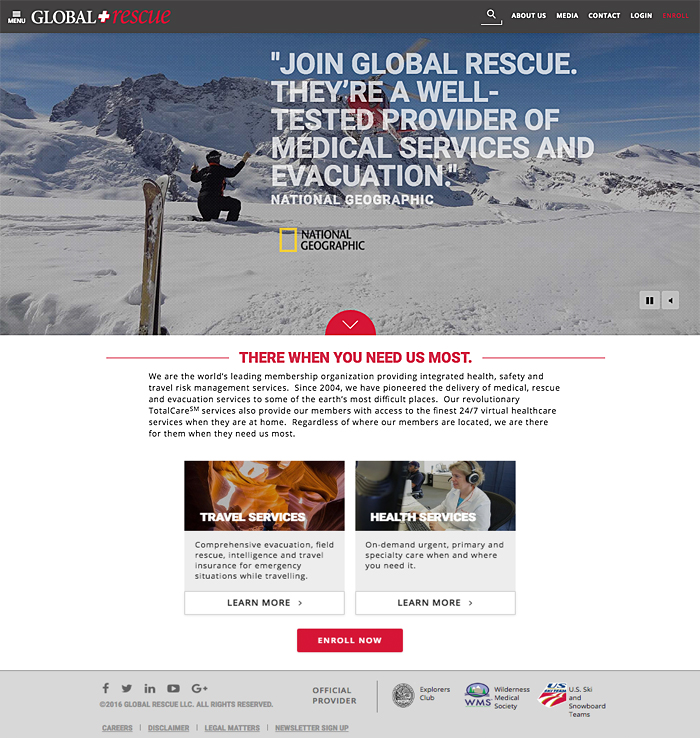 The redesigned website featuring a new content strategy of compelling, story-driven video testimonials, landing pages, case studies, and branded imagery.
Global Rescue
OUR PART
(Content Marketing Manager for Global Rescue 2015 — 2016)
Content Strategy & Development, Digital Marketing
Branding, Foundational Language, Web Redesign
Blog, Email Campaigns, Newsletters and Videos
BACKGROUND: Global Rescue is the world's leading provider of integrated health, safety, and travel risk management services serving over one million members worldwide.
GOAL:  Rebrand and redevelop the company's inbound and outbound digital marketing efforts with content and design that informs, persuades, and motivates prospects to sign-up for the company's services. Redefine and drive content creation, digital strategy, and tactics. Generate warm, qualified leads.
SOLUTION: Develop content for the new website that engages prospects and nurtures them through their buyer's journey. Create an effective lead nurturing newsletter targeting 1200 partners. Collaborate with Global Rescue's doctors, paramedics, former military special operations personnel, and medical professionals to create compelling blog articles, travel tips, news alerts, and story-driven case studies. Create a series of story-driven video testimonial highlighting Global Rescue's life-saving services for distribution on the website, in social media, at events and exhibitions, and broadcast on cable television.
RESULTS: Achieved a 27% boost in online membership signups,  increased blog views 22%, web engagement 26%, and monthly uniques 32% — in just six months.