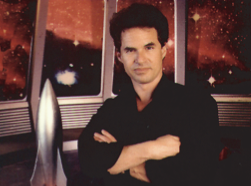 Larry Ross, Doctor of Content
On the set of the Sci-Fi Channel's
"Inside Space"
My Transformation to Professional Celebrity Maker
Editing Spock & Winning an Emmy
My first job after graduate school was as a film editor on the In Search Of… TV series, with host Leonard Nimoy (Spock). Then I moved on to writing, editing, and producing cable TV documentaries about history, science, and technology for the Discovery Channel, the National Air & Space Museum, and PBS's  American Experience and NOVA series. Along the way won a National Emmy Award (shared) for the documentary television series Planet Earth.
Working with Astronauts, the CIA, and Greenpeace
"Nutjobs" – that's what Rolling Stone called our small team of nobodies when we set out to create a cable channel devoted to science fiction and science fact. Two years later, and the SciFi Channel (recently renamed "SyFy") launched and became "the most successful concept in cable TV history". But the best part is that it afforded me the opportunity to produce Inside Space, a television magazine series for young people, and to collaborate with "celebrities" from the professional world – such as Astronaut Mike Mullane, Dr. Carl Sagan, the Deputy Director of the CIA, and the President of Greenpeace USA.
Consulting with Fortune 2000s
At the height of the Internet bubble, I was recruited by Commerce One Global Services to serve as Creative Director & Content Strategist. In collaboration with Boston Consulting Group, we developed, designed, and built enterprise-level websites and Internet marketing solutions for Fortune 2000 aerospace, entertainment, finance, health and travel companies.
Professional Celebrity Maker
I believe a call from my brother to help him get more dental clients using the Internet was fate. It afforded me the opportunity to combine my flair for writing and experience in directing talent with the Internet marketing needs of accomplished professionals – CEOs, dentists, divorce mediators, lawyers, psychotherapists, small business owners, and yoga instructors.